2004 Jeep TJ Wrangler Rubicon
up next
---
Todo List
tire rotation at 140,000
paint shocks?
paint BL gap
skid nutsert replacement
surface rust in drivers footwell
steering pillow
control arm mini-skids
hood dent repair?
half doors
floor liners
paint axles?
currie currect lync
morryde tailgate hinges
factory bumper end caps
paint front frame suspension mounts
tighten suspension bolts
tailgate table
---
done
spark plugs | 2021-09-31 @ 133,400mi
seat risers | 2021-10-01 @ 133,400mi
oil change | 2021-10-04
coolant flush | 2021-10-17 @ 133,500mi
valve cover gasket | 2021-10-18 @ 133,516mi
door hinge bushings | 2021-10-21
h4 headlight conversion | 2021-10-25
install factory front bumper | 2021-11-03
relocate factory locker pumps | 2021-11-03
install polk 5.25" front speakers | 2021-11-03
repair fog light switch | 2021-11-03
tcase fluid | 2021-11-12 @ 133,650mi
transmission fluid | 2021-11-12 @ 133,650mi
installed kc fog lights | 2021-11-14
replaced lug nuts with gorilla | 2021-11-16
rear diff fluid | 2021-11-22 @ 133,760mi
replaced rear diff side air fitting | 2021-11-23
134,000mi | 2021-12-17
intstall savvy adjustable control arms | 2021-11-30
install track bars, jks springs, rancho shocks | 2021-12-30
tom woods rear driveshaft | 2021-12-30
alignment | 2021-12-30
diy quick disconnects | 2022-01-13
claytone reverse led lights | 2022-01-15
replaced transmission backup sensor | 2022-01-15
tires cooper evolution 285/75r16 | 2022-02-09
savvy body lift | 2022-02-22
ucf extra clearance skid | 2022-02-22
jks mml | 2022-02-22
rear tow point | 2022-03-20
center axle under jeep | 2022-03-10
set bumpstops | 2022-03-12
135,000mi | 2022-04-12
new sub install | 2022-05-06
passed state inspection | 2022-08-25 @ 135,915mi
grease front end | 2022-08-30
axle ujoints | 2022-09-05 @ 135,972mi
unit bearings/hubs | 2022-09-05 @ 135,972mi
adjust steering stops | 2022-09-05 @ 135,972mi
rebuild front driveshaft | 2022-09-06 @ 136,002mi
136,000mi | 2022-09-06
frame drain holes | 2022-09-08 @ 136,038mi
seat bushings| 2022-09-10 @ 136,056mi
locker switches wiring | 2022-09-12 @ 136,072mi
new starter | 2022-09-17 @ 136,125mi
drill rear crossmember drain hole | 2022-09-18 @ 136,138mi
clean IAC | 2022-09-21
clearanced gas skid for rear track bar | 2022-09-26 | 051
zj steering | 2022-09-30 @ 136,292mi | 053
service front diff w/ lubelocker | 2022-09-30 @ 136,292mi | 053
alignment fr: 58 1/8 rr: 58 1/4 | 2022-09-30 @ 136,292mi
air filter Wix 46081 | 2022-10-07 @ 136,392mi
service LCA johnny joints | 2022-10-08 @ 136,400mi | 054
install rear black max shocks | 2022-10-08 @ 136,400mi
install trunk | 2022-10-08
service front UCA johnny joints | 2022-10-15 @136,500mi
replaced windshield wipers (bosch microedge 40713) | 2022-11-12
---
reference
---
O2 Sensors
NTK was the oem supplier
WTJF: The Official Jeep Wrangler TJ Oxygen (O2) Sensor Thread
2004​ 6 cyl
O2 Sensor Socket Amazon
O2 sensor wiring extensions amazon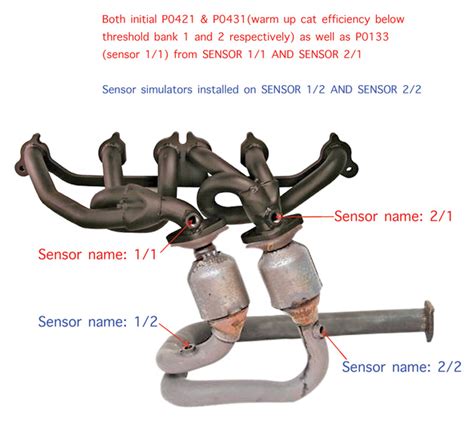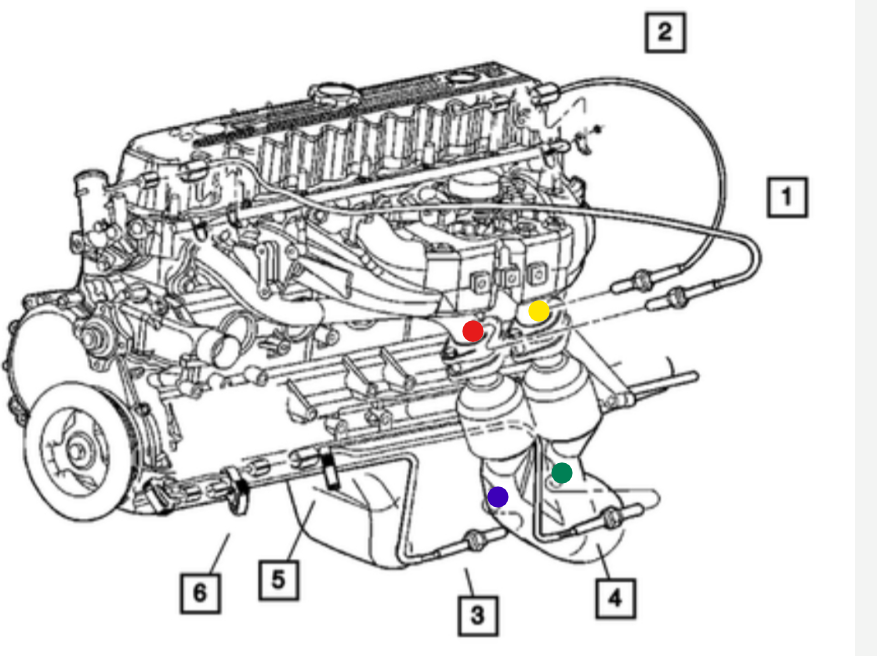 Bank 1 sensor 1 =Red
Bank 1 Sensor 2 =Blue
Bank 2 Sensor 1 =Yellow
Bank 2 Sensor 2 =Green


axle ujoints
spicer 5-760x
Article: Axle U-Joints & unit bearings
WTJF: Jeep Wrangler TJ U-Joint Replacement
WTJF: Replacing U-Joints: Do You Prefer a Hammer or a Press?
Jeep Wrangler TJ Front Axle U-Joint Replacement Youtube
5-760x pair Amazon
Amazon: spicer 5-760x
How To Remove The Front Axle and Change The U joint On YJ/TJ/XJ Jeep Wrangler - YouTube
WTJF: How to Install a Jeep Wrangler Front Axle U-Joint and Hub
WTJF: ElectricWizards 2000 TJ Sport Build
mr blaine: Axle u joint replacement | WTJF
Mr Blaine:
never use a press on axle ujoints
The hammer and socket method wont damage the yoke.
No need to protect the cap being driven in, it is much harder than any hammer so don't be afraid to beat on it.
When you drive the first cap in, take it below flush so the other pin is sticking out a bit further. That way you can pull the cross halfway out of the installed cap and it sticks up high enough on the other side to get the second cap started and engage the needle bearings in both caps. That prevents a needle from falling over and getting trapped which is always a mess. That is also when you install the clip in the first cap's groove so when you hammer in the second cap, it pushes the first one back against the snap ring.
When that is done, the second groove will be showing and when you install the snap ring, it will be loose. You need to set the caps back against the snap rings so the pressure of the cap pushes them against the inside of the yoke. That is done by holding the assembled axle pointing straight away from you in one hand and then taking a nice size hammer and smacking the yoke on the fat part right below the holes for the caps. Inertia will act upon the cross and move the cap outward to lock the snap ring in place. You can check all of this very simply. Once you get the joint installed, move it back and forth and you can feel the tightness from one side being shoved against the thrust bearing inside the cap. After you set both side back against the snap rings, it will free up the joint in a most noticeable manner.
You should also try to rotate the snap ring in the groove with the end of a screwdriver by pushing on it. If it doesn't spin easily, that's good enough.
Also why you see folks struggling to remove the snap rings. They don't understand that the previous installer did it correctly and they need to release the pressure by first smacking the cap inwards before trying to pry out the snap ring and then doing the same to the other side to get that snap ring out.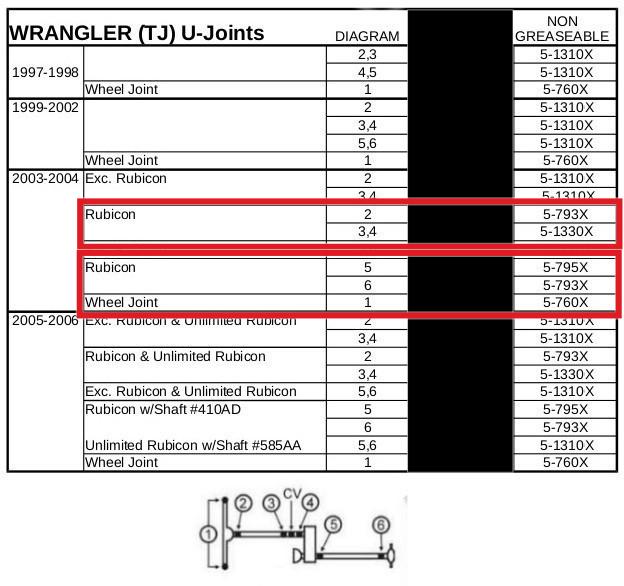 steering stop adjustment
locker switches wiring
WTJF: Jeep Wrangler TJ Rubicon Factory Locker Bypass
wandering trail: locker defeat
rubicon locker bypass
Upgrading Rubicon axles: is this a crazy thought? | Page 2 | Jeep Wrangler TJ Forum
ElectricWizards 2000 TJ Sport Build | Page 12 | Jeep Wrangler TJ Forum
The idea is to insert a relay to interrupt the momentary ground that the pcm needs to enable both the lockers and the dash light circuits. If you wanted to enable lockers on all tcase positions, you have to do the wandering trail mod on top of this.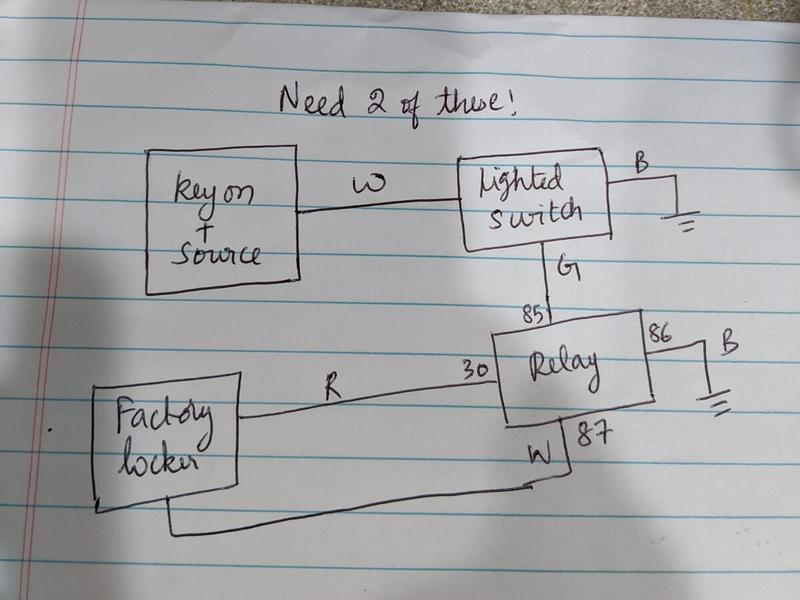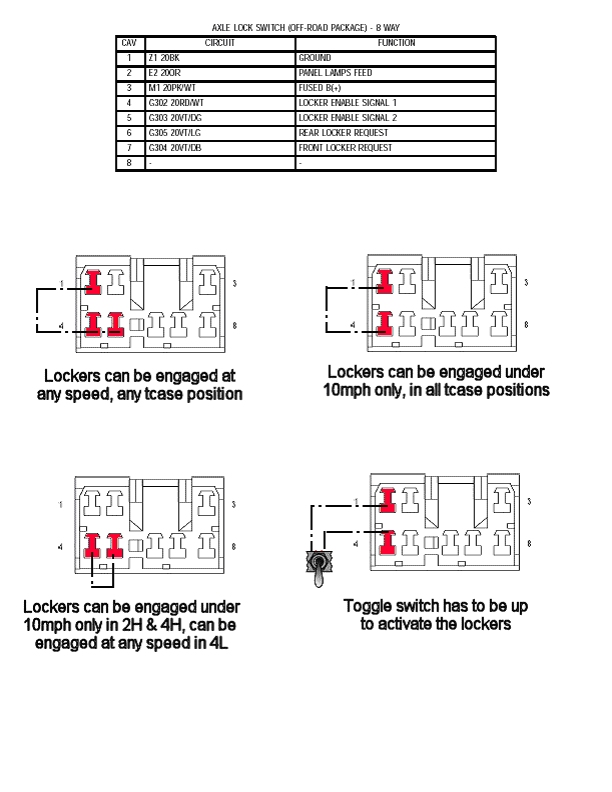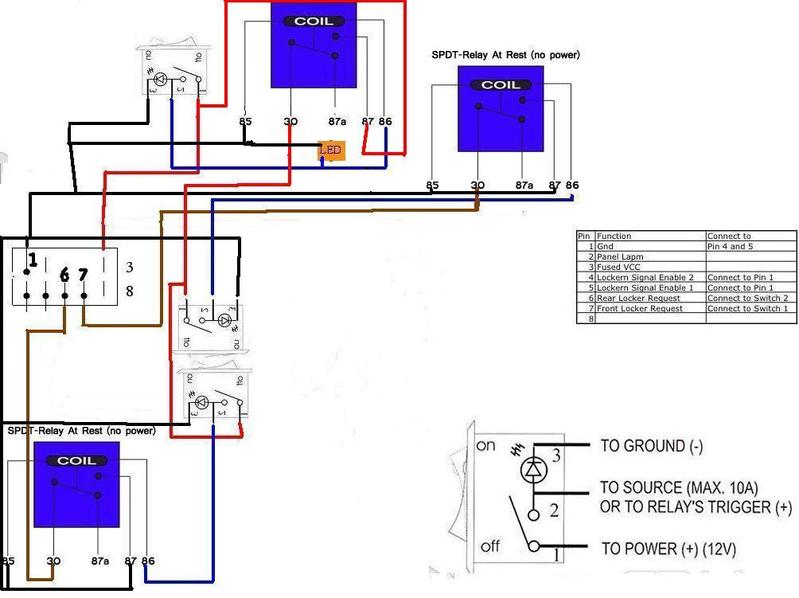 Tailgate Dome Light Activation Switch
Tailgate Dome Light Activation Switch
ac defeat
JF: For the A/C Guys
WTFJ: jjvw post
winch stuff
Roundforge: Warn M8000 buyers guide
TRE Winch Rope
Winch Master Disconnect | Jeep Wrangler TJ Forum
Wizard Recovery Gear!
Wizard Recovery Gear - ST FAIRLEAD
Wizard Recovery Gear - STANDARD HAWSE FAIRLEAD
Thimble and rope coming soon
Which winch? | Jeep Wrangler TJ Forum
warn m8000
warn m8000 | summit warn m8000-s | summit
winch plate
Winch with stock bumper? | Jeep Wrangler TJ Forum
WARN 37170 Winch Mounting Plate for 97-06 Jeep Wrangler TJ & Unlimited | Quadratec
Warn 37170 winch plate | summit
LoD Offroad JWP9654 Bolt-On Winch Plate for TJ | Quadratec
LoD Offroad | TJ Bolt-on Winch Plate
Smittybilt 2802 SMI Raised Winch Plate for 87-06 Jeep Wrangler YJ, TJ & Unlimited | Quadratec
Fishbone Offroad FB21052 Winch Plate TJ with Fishbone Offroad Piranha Front Bumper | Quadratec
front bumpers
WARN 87700 Rock Crawler Stubby Front Bumper for 97-06 Jeep Wrangler TJ & Unlimited | Quadratec UCF aluminum bumper with fairlead UCF steel bumper with fairlead SAV-TJF - Savvy Off Road Front Bumper TJ/LJ 1997-2006 - Savvy Off Road
XD9000i rebuild info
Warn XD9000i for repair | Jeep Wrangler TJ Forum
83665 remote $82
77892 motor $210-260
72631 solenoid $32 each (need 4)
32455 brake $140-160
Misc parts $40ish
Warn XD9000i | Jeep Wrangler TJ Forum
Montanajacks had all the parts I needed in stock.Warn winches – Montana Jacks Outpost
spooling line
Do a locked Brummel eye about 14" in from the end of the line and leave the tail out after a very short bury. Make the eye large enough for the end terminal (thimble or hook) to fit through. Eye goes over the top of the drum, around the backside, out forward under the drum. Other end goes through the eye, snugs up tight against current anchor side, tail lays across drum and gets taped down and cut to length drum width. As soon as you tension it, it will snug up tight but no matter what, you can't pull the line loose from the winch if you screw up.
How to Re-tie a Locking Brummel Loop at the end of your winch-line WITHOUT unspooling your winch!! - YouTube
in cab winch controllers
What winch panel switch are people using? | Jeep Wrangler TJ Forum
Control box relocation
Relocating winch control box | Jeep Wrangler TJ Forum
MountaineerTom's 2006 Jeep Wrangler Unlimited | Page 6 | Jeep Wrangler TJ Forum
new soft top
Sierra Offroad 2003-2006 TJ Wrangler Soft Top with Tinted Windows, Black Trilogy Acoustic Vinyl
radio amp
Crutchfield: Soundstream Picasso Nano PN5
Amazon: Soundstream picasso nano
WTJF: SSTJ build notes
clutch
HF: Three Jaw Bearing Puller
Amazon: E12 socket
Amazon: Luk clutch kit
Amazon: Omix-Ada Clutch Fork Timken 614093 Clutch Release Bearing
National 614093 Clutch Release Bearing Assembly
WTJF: NV3550 throwout bearing and clutch replacement advice
WTJF: Clutch recommendations and tips?
This is a bolt-in job, there's not much to it. Just know that there's usually no reason to have to replace the flywheel unless it is physically damaged. Also, don't have the surface of the flywheel resurfaced or refinished. The TJ's flywheel has a domed surface that would be removed if it was resurfaced. At the most, if it has any glazing on its surface, just remove it with a mild grade of sandpaper or emery cloth.
About the only thing not included in that kit that I'd recommend would be a different throwout bearing than what is included.
Transmission impossible (2002 Jeep wrangler TJ) - YouTube
Removing pilot bearing TJ Jeep Wrangler - YouTube
TJ jeep shifter disassembly - YouTube
Jeep TJ wrangler Clutch install debriefing - YouTube
NV3550 shifter overhaul Jeep TJ wrangler 5 speed - YouTube
TJ Jeep trans mount overhaul - YouTube
Flywheel 2.0 and Clutch (jeep wrangler TJ 4.0L) - YouTube
Jeep Transmission install - YouTube
rain cover
rebuild front driveshaft
5-793x - shaft to pinion yoke ujoint
5-1330x - cv ujoints (2)
Denny's driveshaft rebuild kit
Replacing Front Driveshaft Double Cardan U-Joints on Jeep Wrangler TJ Dana 30 - YouTube
03-06 TJ Rubicon factory DS
Front Drive Shaft (stock)
U-Joint @ Diff: Spicer 5-793x
U-Joint @ DC Joint (x2): Spicer 5-790x (5-1330X)
Non-Greasable Centering Yoke Spicer 211996X
Centering-ball Seal: Spicer 2-86-418
U-Joint Strap Kits Spicer 2-70-18X
T-case Bolts 6036415AA
04 Rubicon front driveshaft u-joint issue. What am I missing here? | Jeep Wrangler TJ Forum:
TJ Rubicon front driveshafts use a nylon injection to hold the axle end yoke u-joint in place. There are no snap rings or c-clips. You heat up the yoke and the nylon literally shoots out the injection hole. Once removed, clear the channel where the nylon was and use inner c-clips with the replacement u-joint.
Correct front drive shaft u-joint? | Jeep Wrangler TJ Forum

flip door handles
WTJF: How to Reverse TJ Door Handles
repair mf switch fog lights
WTJF: How to repair multifunction switch for fog lights (fog lights that won't turn off)
h4 headlight conversion
WTJF: Cheap Toyota H4 Conversion Kit
ball joints
youtube: inner axle seals
WTJF: Wrangler TJ Ball Joint Replacement
youtube: jeep ball joint replacement
WTJF: Ball Joint Tool Kit
Amazon: spicer 706944X ball joint kit
How to Replace Ball Joints in a Jeep Wrangler - YouTube
tools
Press:
people really like the OTC kits, but they are pricey
DHA Ball joint press kit
OTC 7249 ball joint press
Amazon OTC Ball Joint kit
HF: Ball Joint Service Kit
orion press kit
Adapter kit: The trick for the ball joints is the 7894 adapter kit (amazon)
OTC 7894 ball joint adapter kit
Amazon OTC Jeep/Dodge Joint service adapter
amazon Sunluway adapter kit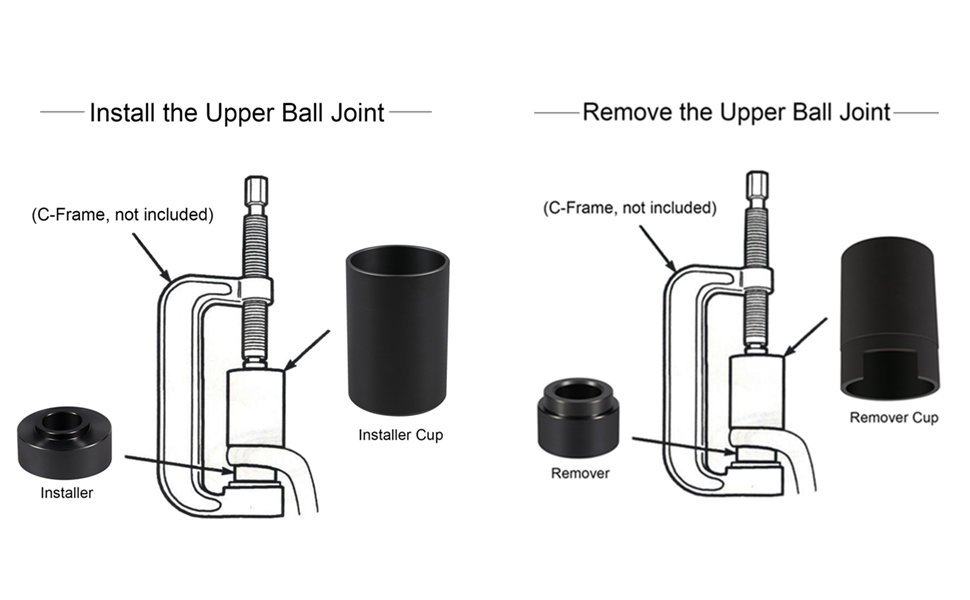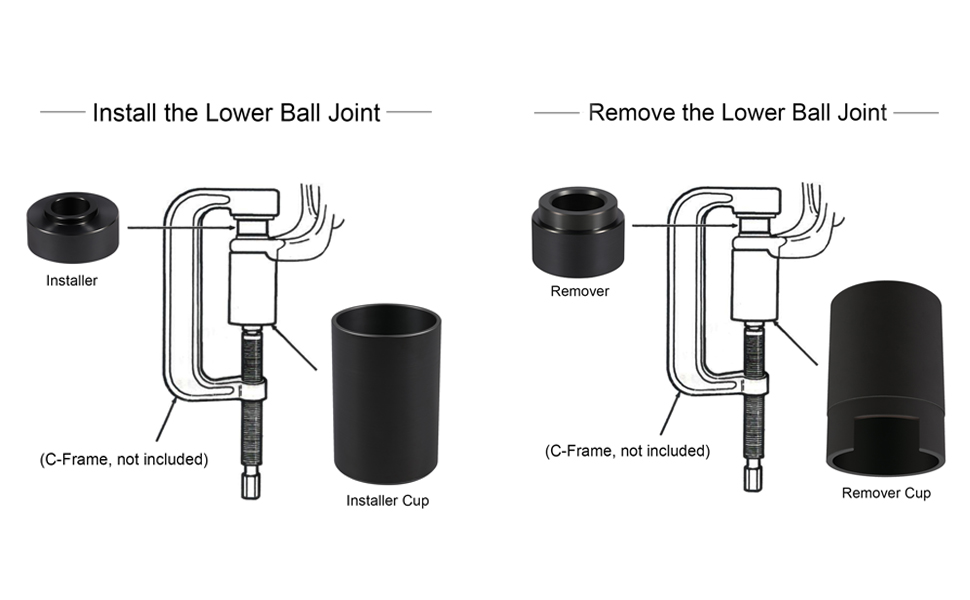 alignment
How to align your Jeep Wrangler TJ
set your toe-in so the fronts of the tires are 1/16" to 1/8" closer together in front than in the rear
Re-centering the steering wheel is required whenever the toe-in is adjusted or when the suspension height changes. That is easily done by rotating the short adjustment link on the drag link after loosening its two clamps.
241 rear seal fix
TSB # 21-003-04: Leaking NV241 transfer case on TJ Rubicon models
PARTS
Retainer, t/case rear (includes rear output shaft seal) 05093606AA (1)
Washer, t/case rear output shaft sealing 04210973 (1)
Seal, vehicle speed sensor 05093612AA (1)
Nut, t/case rear flange 04167924 (1)
Sleeve, rear flange wear (seal slinger) 05093605AA (1)
RTV, Engine Sealant 04883971 (1)
Fluid, transmission/transfer case (ATF+4) 05013457AA (3)
sliders
WTJF: Rock Sliders / Rocker Guards Guide
raise gas skid
WTJF: What is involved in lifting the gas tank one inch?
WTJF: JMT build thread gts clearance mod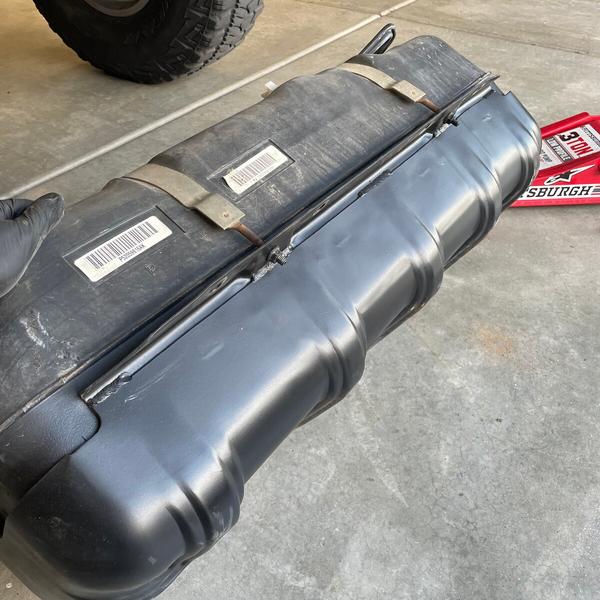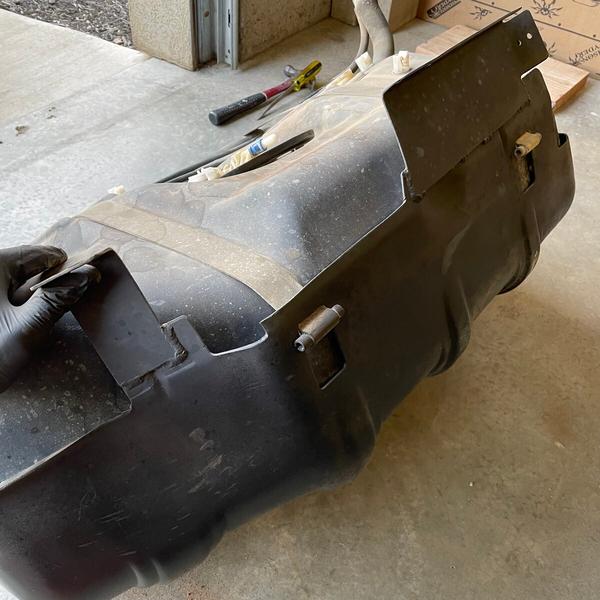 front brakes
front left brake shield
front right brake shield
BMB: TJ Brakes
BMB: Front pads and rotors
BMB: Front calipers
BMB: VANCO 15" Big Brake Kit with Unit Bearings
unit bearings/hubs
Article: Axle U-Joints & unit bearings
Amazon: Timken bearing hub
Wrangler TJ wheel hub / bearing assembly replacement
WTJF: How to Install a Jeep Wrangler Front Axle U-Joint and Hub
WTJF: ElectricWizards 2000 TJ Sport Build
stuck Unit Bearing - TJ Generation
WTJF: Can't remove front axle, any tips?
hub/bearing assembly bolts torqued to 75ft/lbs
Amazon: Timken HA597449
front axle nut - 36mm torqued to 175 ft/lbs Amazon: dorman 05101 kit
how to guides and info
Wrangler TJ wheel hub / bearing assembly replacement
troubleshooting
stuck Unit Bearing - TJ Generation
WTJF: Can't remove front axle, any tips?
stuck hub:
Put a 2.5 inch wide tube, a big bolt, whatever behind the outer stub axle and the inner C and use the steering wheel to push the bearing out.
beat on the 12 point bolts with 12 point socket too and drive it out
Stu: unstick that unit bearing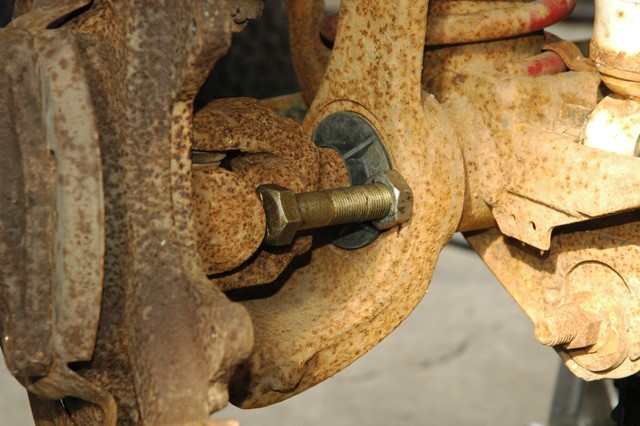 subwoofer unit
Amazon: JBL BassPro Nano 6" Powered Subwoofer
Amazon Sound Ordnance B-8PTD 8" Powered Subwoofer
WTJF: SSTJ build notes
JF Archive: easy console sub
oil pan and gasket
youtube
Oil pan removal jeep TJ wrangler - YouTube
Jeep 4.0L Oil pan strap refurb (hard to find part) - YouTube
Oil pan reinstalled Jeep TJ 4.0 - YouTube
aim headlights
Daniel Stern aim headlights
WTJF: How to aim and align your headlights
How to aim and align your headlights | Jeep Wrangler TJ Forum
Screwing the bottom screw clockwise will move the beam toward the passenger side.
Screwing the top screw clockwise will move the beam up.
flush brake fluid
WTJF: School me on flushing brake fluid
WTJF: Questions about flushing brake fluid
WTJF: Brake Fluid Change
WTJF: Blaine - Doing a brake job? MUST READ!
How to bleed your brakes
Two quarts of DOT 3/4 is what you need. Start by using a turkey baster to suck the old dirty fluid out of the brake reservoir.
On a system that's never been bled before you may find yourself running 64oz+ through it to get clean fluid. You can do this initial bleed to get clean fluid one person, once it's clean you're going to need a second person to help. If you don't, air can get past the bleeder threads. Don't let the MC run dry.
Don't store open brake fluid, once you open a container it needs to be used.
If you need more than 5-7 bleeds per corner, stop and find the problem because flushing more fluid down the drain isn't going to fix the problem.
Open screw, pedal to the floor hard and fast, close screw, let pedal up, repeat.
timing chain
WTJF: Do I need a new timing chain?
cooling system
Drilling a hole into the thermostat's flange like shown below and positioning the hole at the top when installing it will help get rid of the trapped air more quickly. Some thermostats come with a vent hole already, just make sure to position it at the top when installing it.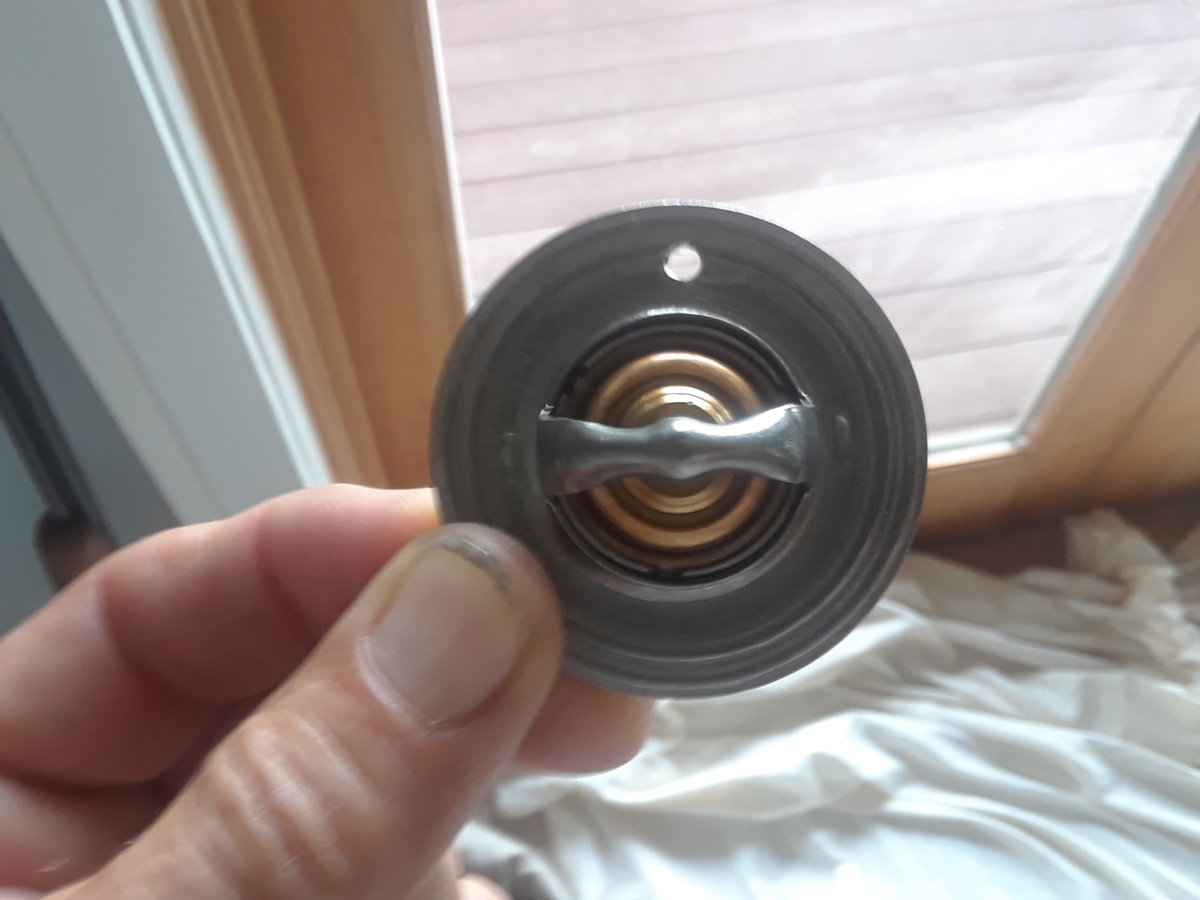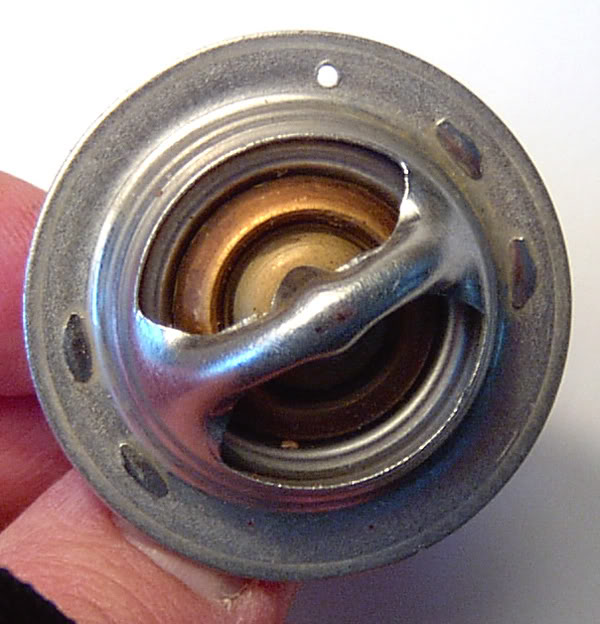 battery
AGM battery
Odyssey
Napa Legend AGM
$220 Oreilly SuperStart platinum AGM group 34
duralast platinum agm Auto zone
diehard platinum agm
x2 power
northstar
"Calcium" AGM like the offerings from NAPA, O'Reillys, Duracell, etc., - good batteries at a more reasonable price point and suitable for most jeepers looking to upgrade from a flooded lead acid battery who either can't afford the price point of a Northstar or don't need the features of a pure lead AGM battery. I will probably buy one of these as my next battery
East Penn vs northstar
differences between "thick plate calcium AGM batteries" such as the offerings by East Penn, and "thin plate pure lead AGM's" which include Northstar, Odyssey and Optima. The article concludes:
"Both the calcium AGM and the pure lead AGM crank longer and are more tolerant of deep cycle drains than OE maintenance-free batteries. That said, there is a performance difference among these two types of AGM battery. Since the thinner plates in the pure lead AGM have more surface area contact than the thicker plates in the calcium AGM, they are more efficient during both discharging and recharging. The calcium AGM is 'better' while the pure lead AGM is 'best.'"
See: http://www.hendonpub.com/law_and_order/articles/2015/04/agm_battery_technology
It appears from the article that in the hierarchy of AGM's the Napa Legend is better than a flooded lead acid battery but not in the same category as a pure lead AGM battery such as Northstar, Odyssey and Optima. It also explains the substantial price difference between the East Penn offerings and those of the other AGM manufacturers.
Be sure to get a Group 24 instead of a group 34 for the extra capacity.(?)
34 is original
24 is taller, more capacity but lower amps
78
center axle under jeep
WTJF: center axle with adjustable track bar
set bump stops
WTFJ: bump walk through with pics
WTFJ: How to set your bumpstops
RMS
This is very, very true! Anyone installing a RMS should make sure to use the supplied plastic tab, to ensure the top seal doesn't get knicked. I've learned this one the hard way and had to make a trip to the part store for a second seal kit. Also, care has to be taken to ensure both the upper and lower halves are installed correctly, with the small lip facing forward.
Getting the pan off, with the front Dana 30 or 44 in place, requires unbolting the shocks, dropping the rear as far as it will go, and loosening the exhaust bolts, so the pan will clear.
WTJF: rms replacement
rear main seal 2002 TJ Jeep Wrangler 4.0L - YouTube
Tools and Parts Needed
Torque specs bearing race 80 ft/lbs starter motor 33 ft/lbs girdle 35 ft/lbs oil pan bolts
1/4 inch bolts - 84 in/lb
5/16 inch bolts - 132 in/lb
valve cover gasket
WTJF: changing valve cover gasket
WTJF: valve cover gasket replacement
WTJF: 2000 valve cover gasket
WTJF: rtv example
I just used RTV on the corners.
The FSM for my 05 stated 10 Newton meters.
wiring bridge WTJF: how to remove plastic wiring bridge
Page 1019 INSTALLATION The cylinder head cover is isolated from the cylinder head via grommets and a reusable molded rubber gasket. The grommet and limiter are retained in the cylinder head cover.
If a replacement cover is installed, transfer the CCV valve grommet and oil filler cap from the original cover to the replacement cover.
Install cylinder head cover and gasket (Fig. 14). Tighten the mounting bolts to 10 N·m (85 in. lbs.) torque.
Reinstall the plastic wiring loom trough at the rear of cylinder head cover.
Reconnect the left hand side of the wiring harness loom to all components.
Connect the CCV hoses.
Install control cables and bracket on intake manifold and tighten bolts to 8.7 N·m (77 in lbs.) torque.
Connect control cables to throttle body linkage.
Snap control cables into cylinder head cover clip.
Connect negative cable to battery.
fix blend door
grease front end
There are seven total zerks. 2 upper ball joints, the track bar frame end, and 4 in the steering ends.
TJ Grease & Lube Fittings - TJ Generation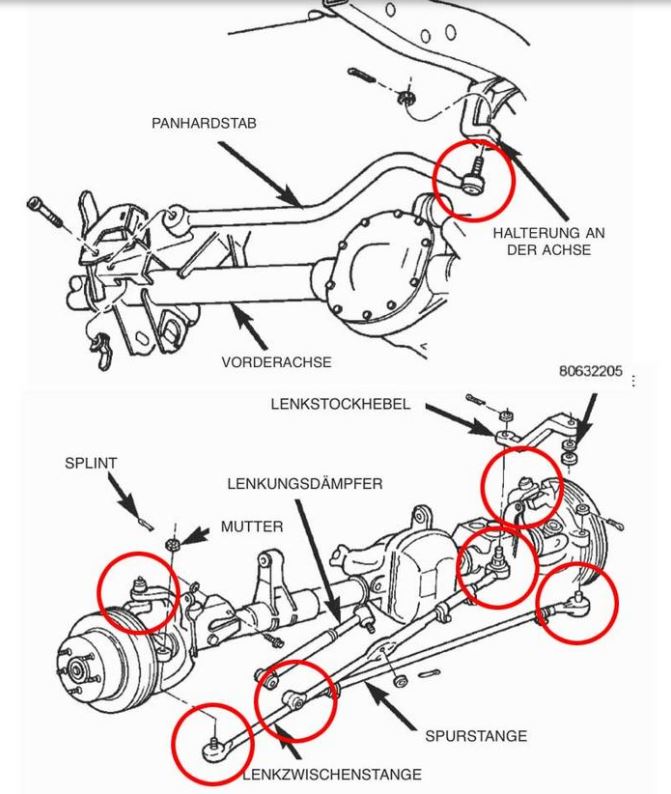 Grease recommendation | WTJF
Lucas Red'n tacky
Lucas Oil 3 oz. Red N Tacky (3-Pack) 10318 | Home Depot
Lucas Oil 14 oz. Red 'N' Tacky Grease 10005 | Home Depot
service johnny joints
I have 16 johnny joints.
9 2.5" - 8 on the 4 lower cas, 1 on the frame end of the front track bar
7 2" - 6 on the 4 upper cas, 1 on the diff end of the front track bar
grease
moly grease for RCVs? - johnny joints
Red Line Synthetic Grease 80402
Red Line Synthetic Oil. CV-2 Grease CE-9013G - Johnny Joint® Grease
tools are $200+, two sizes needed for the uppers and lowers.
budget option is all thread rod and sockets
Johnny Joint Maintenance | Page 4 | WTJF
@rasband: All thread (or a long bolt), a cup that the housing can rest against, and a socket that is big enough to go around the bolt hole and rest on the washer on the snap ring side.
mr blaine: Johnny Joint Maintenance | WTJF
Two things are key. First, the socket you use to push in the washer to take the load off the snap ring needs to be larger than the hole in the washer by enough not to tilt into the hole. It also needs to be smaller than the amount of room that it takes to pop the snap ring out of the groove. You can grind a flat on one side to give the snap ring eyes room to pop out.
The second thing is when you using all thread to squeeze the washer, the opposite side needs to be on the body, not the other washer. Otherwise, you can move the wrong washer or really have to squeeze the races towards each other in hopes that the one under the snap ring moves. React against the body opposite the snap ring and it all works much better.
rasband | Jeep Wrangler TJ Forum:
JJ balls have a small line around the collar of one of the two sides. This signifies the side that should be facing the snap ring. This is to note the side that's marginally longer to account for the snap ring added on that side. It's slight, but measurable at 1/16" on a 2.5" JJ.
Sharp washer edge goes away from the rubber bushing
same with the snap ring, sharp side faces out
Tools:
Vise
Big snap ring pliers
rockjock:
CE-9110T - 2 1/2" Johnny Joint® Assembly/Disassembly Tool
CE-9112T - 2" Johnny Joint® Assembly/Disassembly Tool
ebay:
CE-9110T - 2 ½" Johnny Joint® Assembly/Disassembly Tool | eBay
CE-9112T - 2" Johnny Joint® Assembly/Disassembly Tool | eBay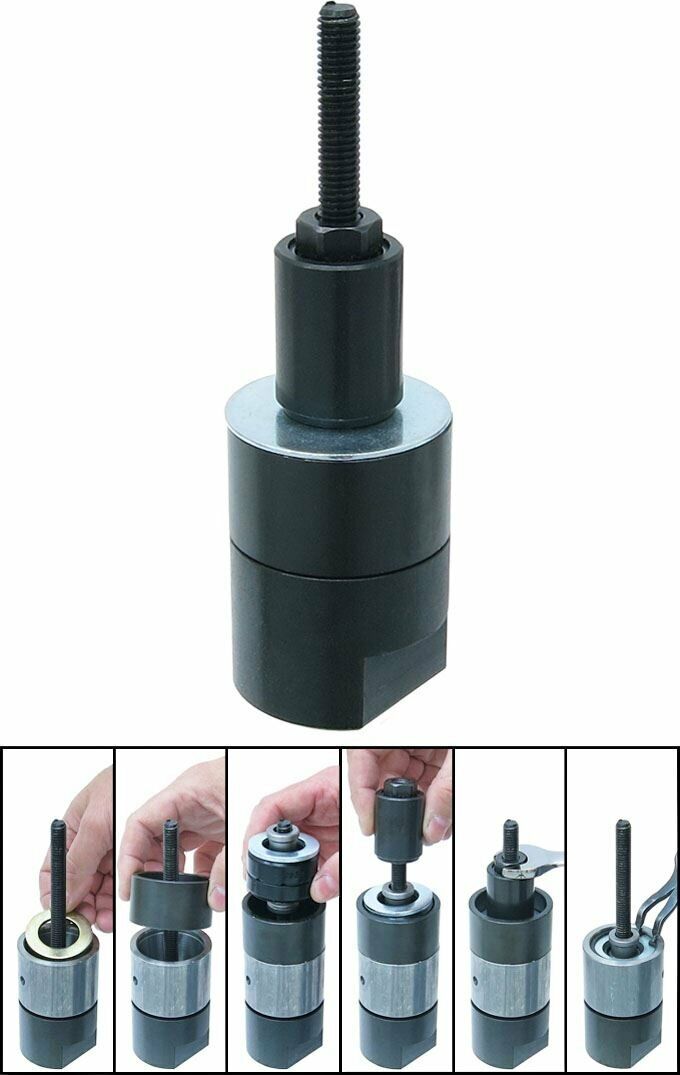 bolts
check for drilled balls when disassembled. if balls are drilled, it can accept grease from drilled bolts.
greaseable bolts for johnny joints
CE-91107 - 9/16" Greaseable Bolts for Currie Johnny Joint - Savvy Off Road
rock jock Greasable Bolts
how to guides
How-To Rebuild a Johnny Joint - YouTube How To Rebuild Johnny Joint, With or Without the Expensive Rebuild Tool! - YouTube Rebuilt | Currie Johnny Joint - YouTube
How to Rejuvenate a Worn Out Johnny Joint | Jeep Wrangler TJ Forum
track bar grease fittings are 1/4-28 threaded
Precision 1/4-28 Inch flush Grease Zerk 621 | O'Reilly
1/4-28 Flush Straight Grease Zerk Fitting 5 Pcs
Metal Grease Fitting Plugs | Huyett
front component speakers
KICKER | KS Series 5.25" Components KSS504 or KSS50
Kicker 47KSS504 KS Series 5-1/4" component speaker Crutchfield
Upgrading the sound system on your Jeep Wrangler TJ | Page 46 | Jeep Wrangler TJ Forum
stereo head unit
Clarion M508 Marine | Crutchfield
Kenwood Excelon KMM-X704 | Crutchfield
regear
Grimm Jeeper Gear Ratio Calculator
thinking 4.88s for my nv3550 and 33s
this is what i had in my '01 with 35s and it was fine.
how to
Regearing from 4.88 to Revolution Gear's new 5.38… sweet! | Jeep Wrangler TJ Forum
After removing the carrier, the existing pinion gear depth was measured using the bearing cap seating surface as a reference point. That gave a very good preliminary depth from which to set the new pinion gear depth. Setting the pinion gear depth involves shimming it in/out with shims included in the master install kit.
we're measuring down to the thousandth of an inch.
It requires a bearing puller to pull the carrier and pinion bearings off. The bearings have a TIGHT fit so they require a bearing puller powered by an impact wrench. It takes a while for the bearing to finally come off even with this setup.
Installing the ring gear requires Loctite be applied to the new ring gear bolts. That prevents the bolts from backing out which can destroy pretty much everything inside the housing. Some use blue Loctite but we used red which is more secure. Revolution's ring gear fit over the Rubicon locker snugly/perfectly without needing to heat the ring gear and freeze the locker/carrier as some require.
Pressing the pinion bearings using a hydrolic press
Reinstalling the Rubicon locker reuses the Rubicon's OE carrier shims to position it left/right to create the right amount of backlash between the gears. Too little backlash between them can cause insufficient lubrication between the gears and damage the tooth surfaces, too much backlash reduces strength. We ended up with the backlash being right on at .008, same as it was originally.
This pic shows using a brass punch to tap in the shim. Using brass here eliminates damage to the shim. Just be careful you get the same shims back in the same sides they came out of.
Painting the gear marking compound onto the gear teeth.
Part of the setup procedure requires setting the pinion bearing preload which requires a small 1/4" drive in-lbs. bar-indicator torque wrench. Revolution specifies between 14 and 19 inch-lbs. of resistance required to rotate the pinion gear. We ended up right at 18 inch-lbs.
Checking the final backlash between the gears. Revolution Gear specified .006 to .010, we ended up at .008.
One thing about the Rubicon's locker and sensor, you have to pay attention to getting the carrier and sensor situated correctly together. With help from Brook at RGA and danb303 and TJR238 here on JF, I used the "toothpick" technique to fully extend the sensor's pin out far enough to clear and avoid damage while inserting the locker back into the housing.
Once the locker is back in place after the final pattern and preload adjustments have been completed, you pull the toothpick out with the fishing line tied to it. That releases the sensor to seat properly behind the locker's actuator plate. However, this is only a concern if you have a Rubicon.
Tools needed
The only specialized tools required include a press for the new bearings, bearing puller, dial indicator for the backlash setting, a ½" torque wrench, and an inch-lbs. beam-style ¼" torque wrench for setting the pinion bearing preload.
Rubicon info blerbs
"Thick" gear sets are what you need for your Rubicon lockers and X2 on the recommendation for Revolution Gear & Axle's gears. For 35's X2 for 5.38 if you're running the automatic, definitely.
revolution 4.88 gears from allens offroad
Note the 'Thick' ring gear designation on the label. That means they fit and work with the Rubicon lockers made to work with higher (lower number) ratios. A conventional non-thick 5.38 ring gear will not work with the TJ Rubicon lockers.
rubicon info threads
Gearing down stock Rubicon carriers | Jeep Wrangler TJ Forum
Gearing recommendation for 2003 Rubicon with manual transmission and 35" tires? | Jeep Wrangler TJ Forum
Thick Cut Gears vs. Thin Cut Gears (and Axle Carrier Breaks Explained) | Jeep Wrangler TJ Forum
Ring and Pinion Break in Procedure
When installing a new ring and pinion it is recommended to properly break in the new components. The proper break in procedure will extend the life of the components and help with the prevention of premature failure usually caused by extreme heat.
Although your new ring and pinion is "Lapped" from the factory for smooth quiet operation, they will still need to be broken in once they have been installed. A new ring and pinion will initially run hotter when new and can cause extensive damage if the temperature exceeds ideal operating conditions for an extended period of time. The suggested break in procedure is as follows:
The first drive with the new ring and pinion should be under normal driving conditions (No hard starts, No racing, No off-roading, No towing and not at Highway speeds).
The vehicle should be driven 15-20 minutes around town, normal stop and go driving. Then you should let the axle assembly "Completely Cool" (this will allow the gear oil to cool down so it does not reach temperatures that will break down the oil, causing loss of protection)
Repeat the 10-15 minute drive and cooling off period 2-3 times
Then you will want to drive on the highway and repeat the process at least 2 times abiding by local speed laws but not exceeding 65 MPH, be sure to let the axle assembly completely cool between drives (very important).
Lastly you will want to change the gear oil after the initial 500-1000 miles and your gears are broken in correctly. Note: If vehicle will be used for towing, repeat the break in procedure the first time it is used to tow.
Follow the factory service manual for recommended differential service intervals unless the vehicle is used in extreme conditions on a regular basis, you will want to service the differential more often.
(Recommended gear oil is an 85-140W, Non-Synthetic, GL5 grade or Higher, Name Brand Oil. Please note extreme weather conditions may require alternative weight oil so be sure to consult a local mechanic or lube technician for recommendations)
gearsets
Motive Gears
Motive Gear Jeep TJ Rubicon, 4.88 | Morris 4x4
Motive Gear Jeep Rubicon 4.88 Gears MGK-116 | extreme terrain
Motive Gear Rubicon 4.88 | Quadratec
Revolution gears - Rev-TJ-Rub-488
Jeep TJ Rubicon Gears Revolution Gear & Axle
Koyo Rev-TJ-Rub-488-K | eBay
Timken Rev-TJ-Rub-488 | eBay
https://www.amazon.com/Revolution-Gear-Axle-overhaul-carriers/dp/B01ETJQZCY
Revolution Gear & Axle TJ Rubicon | POLY PERFORMANCE
Jeep TJ Rubicon 4.88 Timken | rwkhaus
Jeep TJ Rubicon 4.88 ratio Koyo | King Off Road Parts
Jeep TJ Rubicon 4.88 Timken Rev-TJ-Rub-488 | vividracing
Yukon gears
Yukon Gear Jeep TJ Rubicon, 4.88 ratio | ecgs
Nitro Gears
Nitro Gear set
rear axle seals
9912S
Leaky rear axle seal, what'd I mess up? | Jeep Wrangler TJ Forum
Edit: the one on the right is SKF 18731
SKF 18731 Grease Seals
Timken 9912S or Dana 35239. The Dana would have been factory, the Timken is a different design with an expanding skirt that tightens up into the tube bore when you crank Down the retainer plate nuts. Helps prevent leaks. Many fans of the true 9912s here. Just don't order the 9912S from Amazon because you'll get fake crap. Order from rockauto. BTW, to find axle seals on rockauto, you need to go to "brake and wheel hub" and then to the "wheel seal" section. they
Rear Dana 44 axle seal | Jeep Wrangler TJ Forum
X2, you need to remove the existing bearing and bearing retainer to place the seal. You want a SET10 bearing set, the Timken 9912S from rockauto, not amazon is the right choice for the seal.
The old bearings are removed by drilling a big hole in the bearing retainer, stopping the drill bit before it reaches the axle shaft. A cold chisel across the hole will break it so it can be removed.
Then you'll need a press to install the new SET10 bearings, seal, and bearing retainer. It should look like this once they're pressed into place. This shows the disk brake type of axle retainer bracket, the one for drum brakes is flat without the flange.
fuse and relay
Fuse box diagram Jeep Wrangler TJ and relay with assignment and location
zj tie rod/steering
https://wranglertjforum.com/threads/zj-steering-upgrade.11895/
https://wranglertjforum.com/threads/zj-tie-rod-conversion.2373/
https://wranglertjforum.com/threads/what-is-the-best-steering-for-my-jeep-wrangler-tj.2956/
Did MOOG screw up? | Jeep Wrangler TJ Forum
tie rod only
(1) ES3096L End
(1) ES2079S Sleeve
(1) DS1312 Tie Rod
Torque Specs
Drag Link to Pitman Arm Nut - 81 Nm / 60 ft.lbs.
Drag Link to Knuckle Nut - 47 Nm / 35 ft.lbs.
Drag Link Clamp Bolts - 49 Nm / 36 ft.lbs.
Tie Rod Clamp Bolts - 49 Nm / 35 ft.lbs
Tie Rod Knuckle - 47 Nm / 35 ft.lbs
Tie Rod to Drag Link - 75 Nm / 55 ft.lbs.
service front diff
75w-140 gl-5
1.89 L (4.0 pts.)
Diff cover bolts: 30 ft.lbs
Diff fill plug: 25 ft.lbs.
frame drain holes
5/16 or 3/8. I drilled 1-1/2 inches away from each control arm mount.
5/8 in the usual positions, after drilling a pilot hole I used a step drill.
it's either 1/2" or 5/8" for it to drain. if the hole isn't big enough then the surface tension of the water will prevent it from running out
Drill 5/8" drain holes about 3-4" behind the front control arms brackets. Absolutely!
1/2" is good. Some go to 3/4". Anything in there is fine. 15mm hole centered 117mm behind the front control arm mounts
looking like 5/8 is the right size
rear crossmember drain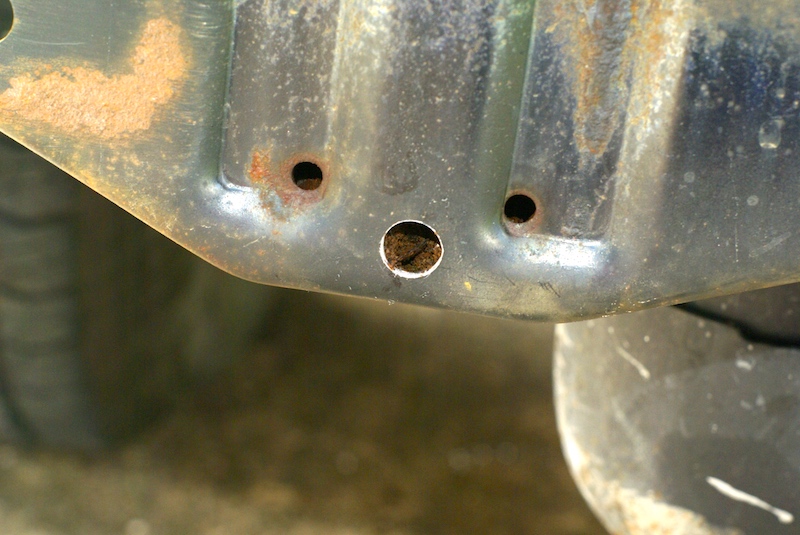 frame clean out
I sit a fan type water sprinkler that goes back and forth under the jeep in various places for 15-20 minutes at a time for a total of a couple hours once I get back. Then I use this with my pressure washer. Under carriage clearer
Last, I use my water hose and shoot water into the frame at every hole I can find from front to back and at different angle to flush anything out.
Clog Hog® Sewer Jetter Drain Cleaner — See It in Action - YouTube
https://www.amazon.com/dp/B016Y1LIN6/ https://www.amazon.com/gp/product/B07K22DGRY
engine oil
5w30 STP conv high mileage $27
engine oil filter filter
mopar m0-090 $10
Factory WIX 51085
Larger CJ size 51515 taller, holds more oil
electrical cables
TJ Big 7 Complete Kit (Wrangler 97-06)
steering skid
SAV-TJSS - Steering Box Protection - Savvy Aluminum TJ/LJ 97-06 - Savvy Off Road
Savvy steering box skid | Jeep Wrangler TJ Forum
aftermarket sway bar
REAL WORLD COMPARISON: OEM Anti-Sway Bar w/ Disconnects vs. Antirock Off-Road Sway Bar vs. SwayLOC Dual Rate Anti Swaybar System | Jeep Wrangler TJ Forum
Looking for thoughts and opinions on the Antirock | Jeep Wrangler TJ Forum
How does a Currie Antirock sway bar improve off road performance? | Jeep Wrangler TJ Forum
swayloc
Jeep TJ Sway Bar SwayLOC For 97-06 Wrangler TJ OffRoadOnly - OffRoadOnly
Off Road Only SwayLOC for Jeep TJ | POLY PERFORMANCE
Off Road Only SL-TJLV Dual Rate Manual Operated SwayLOC Swaybar for 97-06 Jeep Wrangler TJ & Unlimited with 0-8" Lift | Quadratec
setting arm angle
Do I need to pull my Antirock arm higher? | Page 2 | Jeep Wrangler TJ Forum
dead pedal
redrock dead pedaal | ExtremeTerrain
adjustable control arms
uppers 7/16" 60 ft/lbs
lowers 9/16" 90 ft/lbs
seat bushings
Seat Bushings | Jeep Wrangler TJ Forum
Seat Bushing Repair Jeep Wrangler TJ LJ Front Seats - YouTube
Hillman from lowes
Nylon spacers:
3/4 x 1/2 x 3/8 | 880447

this slides over the upper stud to hold the cut nylons pacer in place (B)

1/2 x .257 x 1 | 880438

cut down to the length between the seat frame and button head. cut in half to sandwich over the shaft. (A)

1/2 x .385 x 1 | 880441
1 x 13.32 x 1/16 | 881539 flat nylon washer
T40 torx
small pipe cutter?
craftsman tiny ratchet set super glue gel
file
needle nose pliers
(A):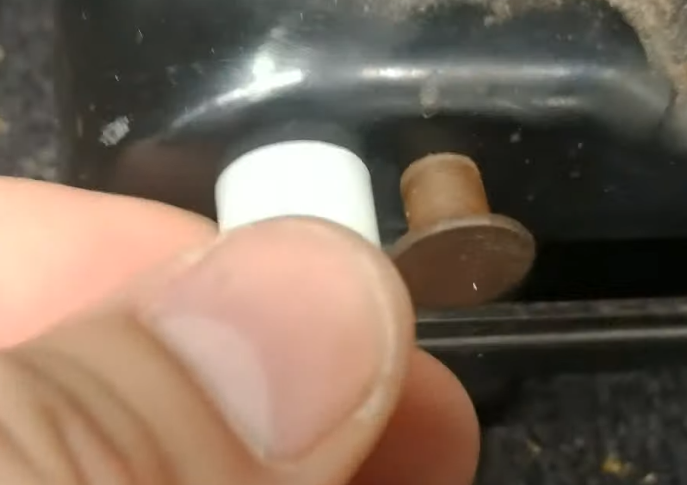 (B):

(C):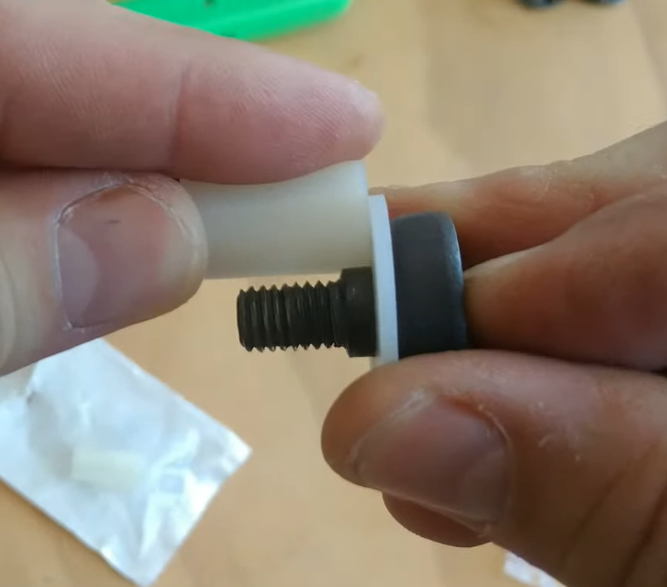 (D):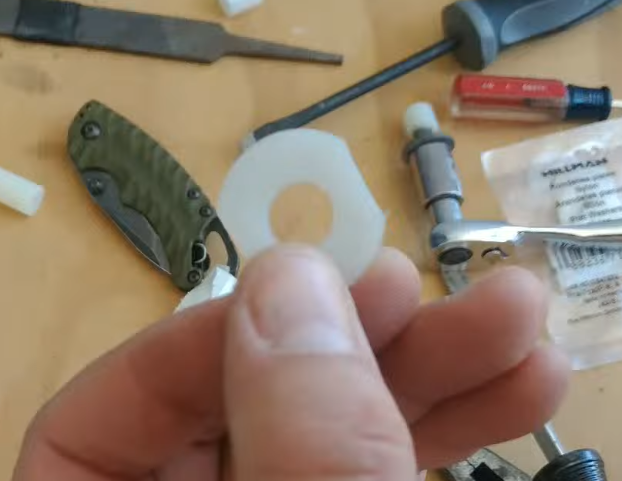 (E):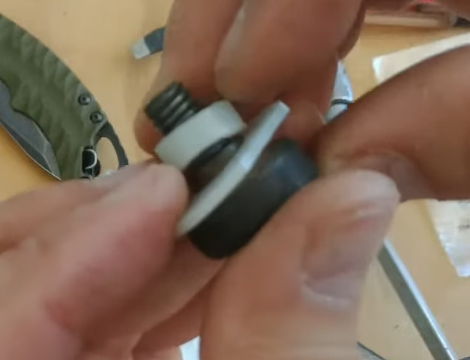 defrost only fix
Air won't come out of vents? Read this! | Jeep Wrangler TJ Forum
How to fix heat / AC / air not blowing through center vents | Jeep Wrangler TJ Forum
Only blows out the defrost | Jeep Wrangler TJ Forum
Defroster control not working | Jeep Wrangler TJ Forum
HVAC air only blowing through defrost vents | Jeep Wrangler TJ Forum
Fsm
24-2
24-16-18
24-38
replace factory diff side air fitting
How To Replace Rubicon Axle Air Fitting | Jeep Wrangler TJ Forum
factory diff air fitting
diy quick discos
DIY Quick Disconnect Pins (bolted) | Jeep Enthusiast Forums
clean IAC
Basically start the engine then spray throttle body cleaner into the throttle body at idle rpms. The IAC will only draw the cleaner in through itself when the engine is at idle. The cleaner will flood the IAC so the engine will die. That's ok, just restart the engine. Plus the extra time the cleaner sits inside the IAC after the engine dies and before you restart it helps it work.
No guarantees of course but thoroughly cleaning the IAC usually fixes this kind of problem. My goal is to get 1/3 of the can of TB cleaner through the IAC.
How to clean your IAC (Idle Air Controller) valve | Jeep Wrangler TJ Forum
actually removing the IAC to clean it is seldom required. When cleaned as suggested above, the IAC usually pulls in enough cleaner through itself to restore it back to good operating condition.
diagnose hard start
fuel pump | Delphi FG1353 | Diagnosing Hard Start Issue | Jeep Wrangler TJ Forum
IAC
Difficulty starting | Jeep Wrangler TJ Forum
new starter
new starter installed2022-09-17 @ 136,130mi
reman unit from oreilly's on 407
chromoly axle shafts
Jeep TJ / LJ / YJ / XJ Axle Kits | Carbon Off Road 4340 Chromoly Jeep Axle Kits
Rear Locker Discussion | Jeep Wrangler TJ Forum
Jerry Bransford: good quality 4340 30 spline shaft like from Revolution Gear or Superior Axle
fronts
30 spline inner/27 spline outer
4340
Chromoly Shafts - Front - Dana 44
Motive Gear Ten Factory Shaft Kit Summit
rears
30 spline 4140
DANA 44 REAR TJ CHROMOLY SHAFT KIT (97-06)
Motive Gear Ten Factory Shafts Summit
arb air lockers
ARB Lockers in TJ Rubicon | Pirate 4x4
RD116 or RD117?
To install an ARB for TJ Rubicons '03-'06 WITH the thick gear set, you need an RD117 front & rear.
More specifically, you need an ARB with differential case # 013005 and flange cap assembly # 027305. That means that if you want to upgrade your rear to a 35 spline dana 44, then you need to find the ARB with this case and flange cap assembly (all other internal parts are the same). NOTE: on ARB's product guide it will say "Dana 44, 35 Spline, 3.73 & DN" for the ARB you need with the thick gear set. It doesn't say anything about Rubicon's, other than "call ARB" (which I found on another product sheet BTW). However, this is the correct locker even though it states "3.73 & down", because of the thick ring gear, and if you have a Rubicon, then you know that your gears are 4:10 & up.
To upgrade to a 33 spline D44 for the rear, you will need to contact ARB to have them assemble the correct one for you, since it's not a production locker they list as of yet. You still need the case & flange cap assembly as stated above.
So here's what the part numbers break down to for TJ Rubicon's with the Dana 44 thick gear set:
30 Spline (front & rear): RD117
33 Spline (rear): call ARB
35 Spline (rear): RD147
Now, if you re-gear AND do an ARB at the same time, you can just get the normal 44 ring & pinion and normal ARB as listed on their product guide. However, I re-geared to 4:88 with the stock lockers, so I had to re-gear with the thick ring gear….which is how I ran into all this when I later installed the ARBs with the thick ring gear I already had in there.
If you are ditching your air locker and regearing at the same time just skip getting thick gears. Get the gears you want in a normal set and the appropriate locker for the 3.73 and up range.
jjvw: ARB Thick Cut Gears vs. Thin Cut
Fear not! Those of us with Rubicons can change the carrier and still use thick cut gears if we want to.
ARB RD116 uses standard cut for 3.92+ gears
ARB RD117 uses thick cut for 3.92+ gears
| Part # | Differential | Ratio | Spline Count |
| --- | --- | --- | --- |
| ARB-RD100 | D30 Front | 3.73 & Up | 27 |
| ARB-RD101 | D30 Front | 3.54 & Down | 27 |
| ARB-RD117 | D44 TJ Rubicon Front | 3.73 & Down | 30 |
| ARB-RD103 | D35 Rear | 2.73 - 3.31 | 27 |
| ARB-RD102 | D35 Rear | 3.54 & Up | 27 |
| ARB-RD93 | Chrysler 8.25" Rear | All | 29 |
| ARB-RD116 | D44 Rear | 3.92 & Up | 30 |
| ARB-RD117 | D44 TJ Rubicon Rear | 3.73 & Down | 30 |
RD117
ARB RD117 Air Locker Locking Differential for 69-06 Jeep Vehicles with 30 Spline Rear Dana 44 with 3.73 and Numerically Lower Gear Ratio | Quadratec ARB Lockers for Jeep TJ/YJ/XJ/ZJ | POLY PERFORMANCE
rubicon factory lockers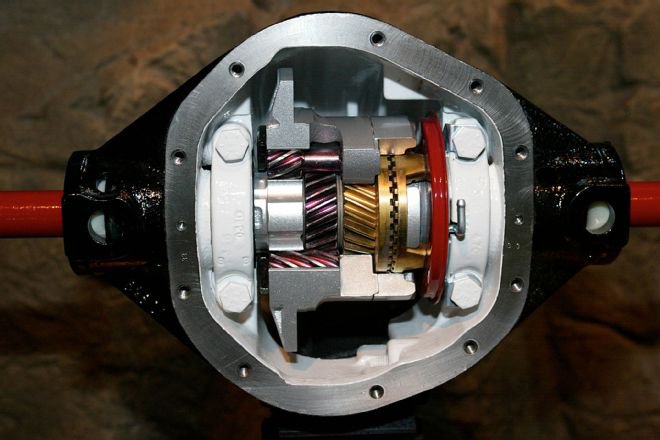 shocks
Measuring for shock length and bumpstop length | Jeep Wrangler TJ Forum
@freedom_in_4low:
0. Measure the distance between shock mounts at ride height.
put your frame on jack stands
Remove wheels/tires
remove shocks and disconnect sway bar
let the axle droop all the way out and measure the distance between your shock mounts. You'll use this later to see how much shock extension you can use.
remove springs - if they won't come out, remove the axle end track bar bolt to let the axle droop farther. Remove the rubber jounce bumpers from the bump stop cups.
use a floor jack to cycle the axle all the way to full compression on each side and in the middle (to get both sides bumped at the same time. You're looking for any mechanical contact, such as a track bar hitting a diff cover, steering hitting anything, etc. For the tie rods you'll want to turn the wheel all the way in each direction. Measure how far your bump stops are from each other at the points where things touch that you don't want to touch, and measure the distance between your shock mounts at the same point.
Repeat number 6 with the tire on the side you are stuffing. Technically you can do it at the same time as #6, I just find things easier to see without a tire in the way so I separate them. Just see where the tire hits, again turning the wheel to both extremes. Note your bump stop and shock mount measurement, if it's greater than the one from step 6.
Go shopping for shocks. Find one that best uses your available travel as measured in steps 0, 4, 6, and 7, but puts your ride height roughly in the middle of the total travel. If the shock length you pick is longer than what you measured, you'l need to add bump stop to take up the difference, and that will cost you uptravel. If you can't get exactly in the middle, that's ok, just don't farther than you have to on one side or the other. I know 2.5" of downtravel isn't enough. Stock had 4" of uptravel so I want to have at least that.
Shock Comparison: Rancho RS5000X vs Skyjacker Black Max vs KYB Monotube | Jeep Wrangler TJ Forum
STICKY - TJ Shock & Spring Specification Resource Thread | Jeep Wrangler TJ Forum
I don't like my Rancho RS5000X shocks | Jeep Wrangler TJ Forum
SkyJacker Black Max B8528 for the rear
shock torque specs
Front:
upper nut: 17 ft.lbs lower: 250 in.lbs | 21 ft.lbs
Rear:
upper bolts: 23 ft.lbs
lower bolt: 74 ft.lbs
Rear Currie/Rock jock extensions:
3/8 small bolt: 35 ft.lbs
factory bolt through spacer: 85 ft.lbs
shock bolt: 85 ft.lbs
air filter
AC delco A1548C gold
Wix 46081
Mopar 4797777
add a trunk install
Factory rear trunk | Jeep Wrangler TJ Forum
I used four M6 nutserts and four M6x20mm (maybe 15mm?) flanged bolts with a 1.00 pitch. The instatrunk originally came with thumb screws instead of bolts, but mine didn't have any with it and ACE did not have any in that size. I used the flanged bolts to eliminate the need for washers.
The nutserts go into the hexagon holes behind the carpet on each side. There should be grommets there. Remove them and push the nutserts in their place. It's a tight squeeze so you'll have to use a little force. I think I used a rubber mallet.
The nutserts are designed to expand on the inside and crimp against the sheet metal and the outer nutsert flange. You'll need to make a "tool" to set it. I would get an M6x30mm bolt and a couple of nuts in at least grade 8 to set the nutserts. If use use a cheap grade bolt, you'll most likely snap it with the force it's receiving.
I used a socket on the bolt instead of a second wrench. This allows you to put equal force on the bolt and keep the nutsert straight in the hole. If the nutsert tilts to one side, it won't set properly. You don't have to go crazy with them though. You're not holding on a skid plate or rocker guards.
Once your nutserts are set, you need to cut open a space for the bolts to pass through the carpet and into the nutserts. I believe the factory just cut little slits in the carpet. In hindsight I probably should have done this, but instead I used a soldering iron to "melt" through the carpet and seal the edges of the hole to prevent fraying.
Before the iron was hot, I felt around until I found the nutsert under the carpet, and poked tiny holes for reference.
Once my holes were poked, I heated up the iron and burned my bigger holes in. This melted the edge of the holes together to prevent potential fraying.
Once I had my holes burned in, I lined up the trunk and installed my flanged M6x20mm (maybe 15mm?) bolts.
on board air
How-To: Simple Onboard Air for your TJ (Viair 400H) | Jeep Wrangler TJ Forum
Viair 400h/400p Viair 88p
existing compressor
existing compressor is a superflow or masterflow mv-50 and has a Nitto 10mm type q connector
How-To: Simple Onboard Air for your TJ (Viair 400H) | Jeep Wrangler TJ Forum
masterflow 25' air hose
superflow Parts
speedo correction
SpeedoDRD
Yellow Box Speedo Recalibrator
JET AccuSpeed
HealTech SpeedoHealer
mr blaine on install
I drill a hole in the firewall right in front of the fuse block behind the dash. Run the wires inside and then I have industrial Velcro I use to stick them right to the metal frame on the bottom of the passenger air bag. Zip it off and adjust it, put it back and it is as protected as it needs to be.
mr blaine on install I highly prefer putting the correction device that can be dialed in by spinning a small screwdriver, stored behind the glove box with the total length of wire running from the PCM connectors to right behind the glove box. Clean, efficient, simple. Run a fuse tap from the instrument cluster fuse, ground in the same area. Total power and ground wires are about 18" long.
Yep, we drill a small hole in the firewall in front of the glove box, run a pair of wires from the correction device out through that, pick up the wires in the harness to the speedo at the PCM plugs, cut and splice and done.
more mr blaine install Since the elegant part seems to be underappreciated, here is what it looks like when done the way we do it. At the firewall, small braided loom is the tap into the PCM harness. The folded back loom is the connector for the old hood light.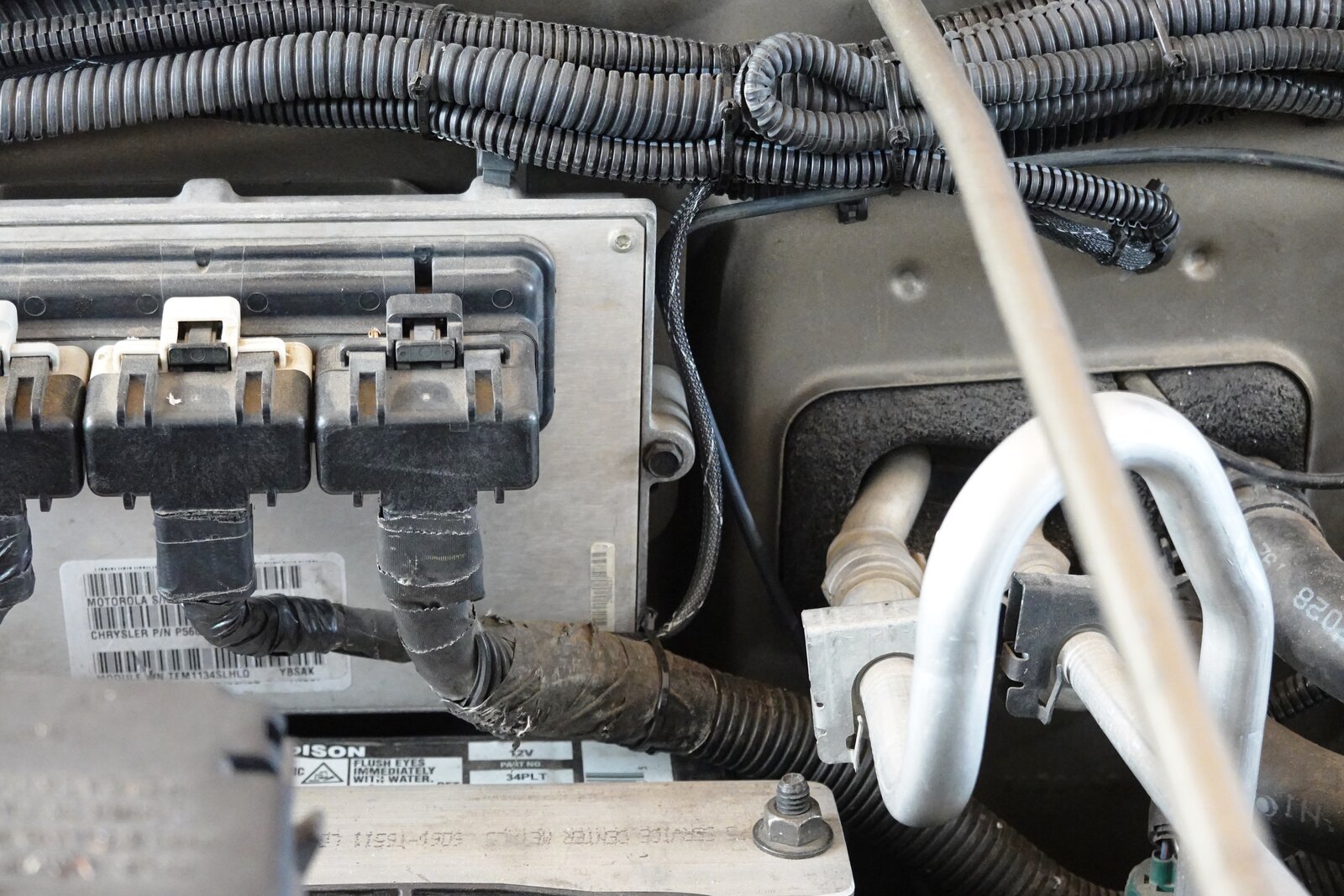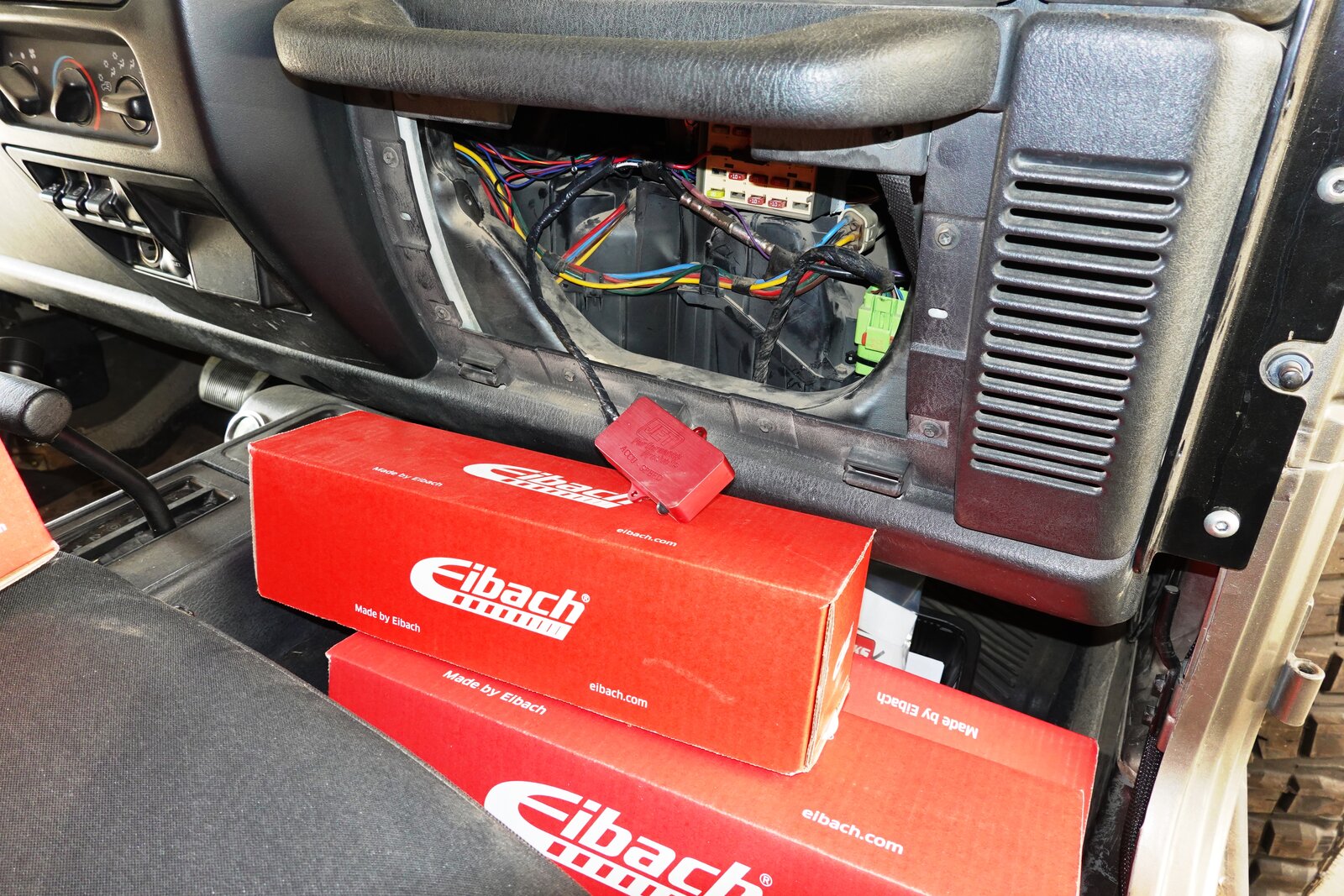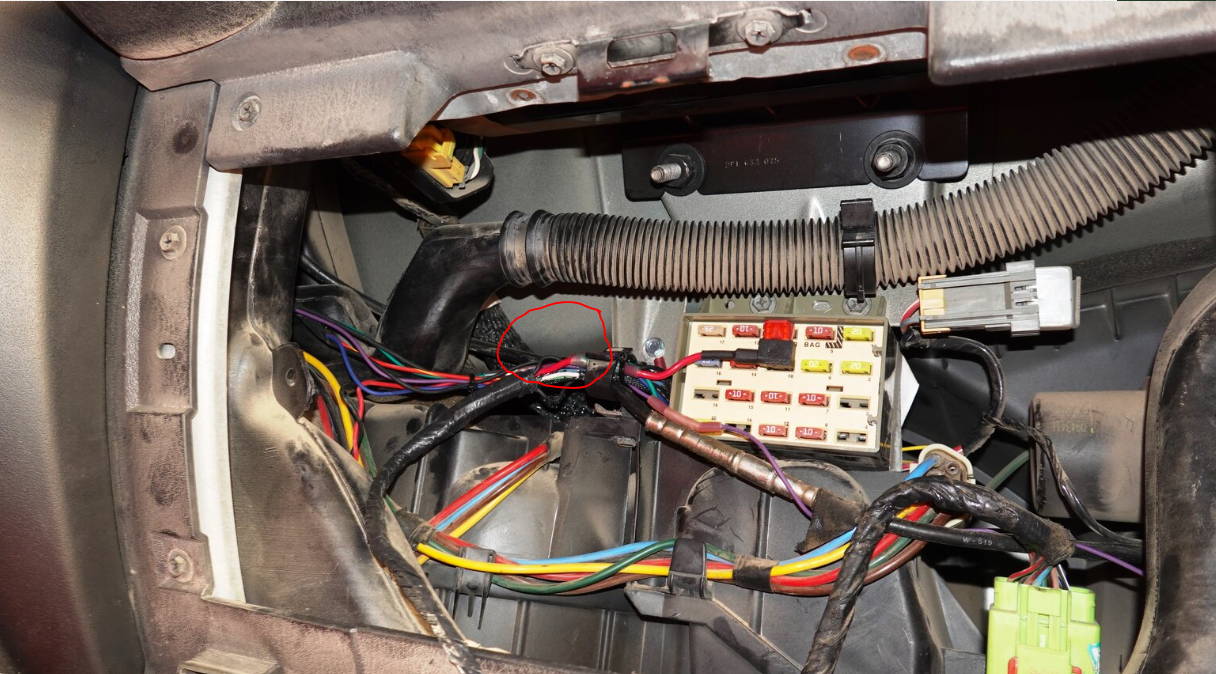 rear bumper with hitch receiver
UCF aluminum hybrid rear bumper
TJ LJ YJ Low Profile Rear Bumper With 2" Receiver – Barnes 4WD
seat heaters
Dorman 628-040
(2 Seat Heaters) Dorman 628-040 Universal Seat Heater Element - Free Shipping | eBay
How-to install other heated seats | Jeep Wrangler TJ Forum
How to install Dorman heated seats | Jeep Wrangler TJ Forum
pinion angle
How much angle is too much angle for the rear driveshaft? | Jeep Wrangler TJ Forum
front